Tag Archive | cell wall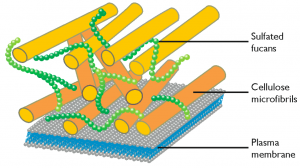 Nannochloropsis' whole cells were recently analysed using 13C-SS-NMR spectroscopy (reference n 1). Cells were grown autotrophically in a sodium [13C] bicarbonate environment and harvested during the exponential phase.
Quantitative spectra of 13C labelled cells of Nannochloropsis oculata were analysed for resonance picks which are characteristic of carbohydrates and lipids, thus providing, among other interesting observations, useful insights on the cell wall composition of the microalga.